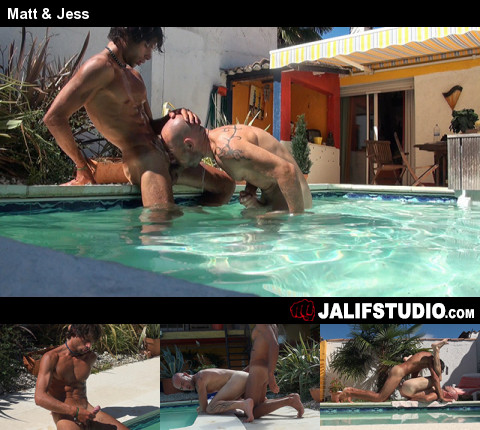 Matt and Jess can practically feel the vitamin D absorbing into their skin after a long day by the pool. With their bronzed, muscular bodies taking in all the sun, it's not surprising that they felt that familiar stirring in their loins! Jess drops to his knees by the water's edge to take Matt's thick surfer cock deep in his throat.
The shaggy-haired stud pulls his member out from his bathing suit to serve it up to his handsome buddy.
Jess rocks his own massive meat, making Matt's mouth water at the sight of it! Feeling the heat of the high noon sun, they ditch their bathing suits and jump in the pool, cooling off as they feel their hard erections splash into the water.
The two exchange hungry blowjobs, swallowing down each other's thick shafts as they inch closer and closer to cumming!